Apprentice stipend, in general, is the financial allowance provided to apprentices as a form of compensation during their training period. With the growing intent among businesses towards engaging in apprentices, our annual Stipend Primer Report sheds light on the stipend trends across 24 industries in 14 cities, the hottest roles for apprentices, the current stipend range paid out to apprentices and more.
This blogpost serves as a summary, offering a glimpse into the data & highlighting the key findings discussed in our annual report.
Apprentice Stipend Trends: FY-2022 vs. FY-2021
Irrespective of educational level or industry, the average monthly stipend increased by 2% this year. Notably, stipend amounts exhibit a positive correlation with education levels, with graduate apprentices receiving the highest compensations among the four main categories. Employers have shown a willingness to pay apprentices significantly more than the mandated requirements due to the invaluable contributions these apprentices offer to their companies, industry and workforce as a whole. On an average, trade (regular) and diploma apprentices receive close to 50% more than the stipulated minimum stipend, while degree apprenticeships receive approximately 40% more.
The report utilises data collected from 14 cities in India, including Ahmedabad, Bengaluru, Chandigarh, Chennai, Delhi, Hyderabad, Kochi, Kolkata, Lucknow, Mumbai, Indore, Nagpur, Coimbatore, and Pune. Out of these 14 cities, 9 displayed an overall growth in stipend rates and the number of apprenticeships employed by various industries. Chandigarh witnessed the highest increase at 6%, closely followed by Delhi and Hyderabad, both experiencing a 5% growth.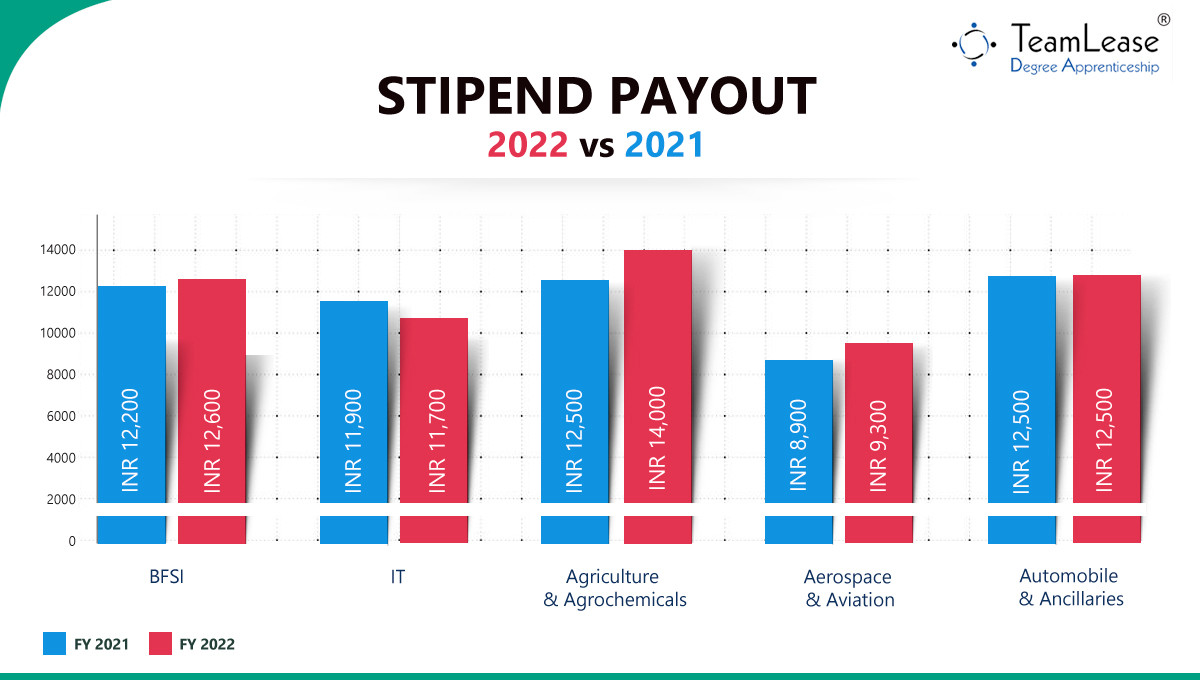 Apprentice Stipend Comparison by Education: Average vs. Minimum
Across industries as a whole, graduate apprentices receive an average stipend that is 26% higher than the government-mandated minimum. Regular, trade, and degree apprentices, with minimum stipend requirements of INR 6,000 and INR 8,000 also receive stipends that are significantly higher than the government notified stipend.
Due to the significant value apprentices bring to the company, industry and the overall workforce, companies readily invest in apprenticeship programs.
For instance, a global player in the IT industry - an industry where traditionally employment has been limited only to those that had a completed post-secondary education, started an apprenticeship program in 2018.
The company scouted students working towards a college degree and offered them the opportunity to gain industry experience at the same time. They recorded that the apprentices were about 90% as effective as regular employees. Their stipends being significantly lower than the standard salary but still higher than the government mandated minimum meant that it was a win-win situation.
At the end of 36 months the absorption rate was close to 90% and the company gained a whole host of employees that were already familiar with their business practices and work environment. This investment in human capital was greatly successful and the company to this day runs apprenticeship programs in the hopes of maintaining a plentiful, sustained talent pool that will support their future growth within the industry.
Get More insights on the Returns on Apprenticeship Programs in our ROI on Apprenticeships Whitepaper - Download Now
Top Apprentice Roles Across Industries
Based on the stipend payout, Agriculture Field Officer ranks as the top apprentice role across industries. The industry increased the stipend payout for this role by 7% increase from the previous year.
This is closely followed by Retail Sales Personnel and HR professionals. In general, average stipends across job roles have improved significantly in FY-2022 compared to FY-2021.
However, certain roles related to Logistics (-3%), Customer & Technical Support (-2%), and Engineering (-2%) experienced a slight decrease in average stipends.
It is worth noting that roles are strongly correlated with the educational levels of the apprentices. However, most of these roles still offer stipends higher than the minimum requirements.
The top roles based on education across all industries and their corresponding pay are:
8th, 10th, 12th Graduates: Office Administration (INR 13,300)
Industrial Training Institute Graduates (ITI): Telecom Tower Technician (INR 13,300)
Diploma Holders: Maintenance Technician (INR 13,100)
Graduates: Quality Support (INR 14,700)
Post-Graduates: Technical Support Engineer (INR 16,400)
The extensive list of Apprentice Stipends & the Hottest Roles Specific to Industries, in our Stipend Primer 2023 - Download the Report
Stipend Analysis: FY-2022 Premium, Normalised, and Candidates' Expectations
In 11 out of the 14 cities analysed, premium apprentice stipends for 8th, 10th, 12th Graduate category apprentices were 40-60% higher than the average stipends for those roles. Additionally, Premium Stipends for Diploma holders were 30-50% higher than the average in six out of 14 cities. Graduates in five cities received Premium Stipends that were 55-75% higher than the average, while Post-Graduates experienced the most significant disparity, with Premium Stipends 50-80% higher than the average in Chennai, Hyderabad, Indore, Bengaluru, Chandigarh and Delhi.
Interestingly, candidates in most of these cities, regardless of education or industry, had stipend expectations that exceeded what companies were currently paying.
Key Industries Focused in the Report
The report delves into the apprentice stipends in six major industries that significantly contribute to the Indian economy and create numerous job opportunities.
Automobile & Ancillaries
BFSI
Electrical and Electronics
Engineering and Industrial
FMCG
IT
Among these industries, BFSI offers the highest average stipend to apprentices at INR 12,600, followed closely by Automobile & Ancillaries (INR 12,500), Engineering & Industrial (INR 12,000).
Understanding the stipend landscape in these key industries provides valuable insights for businesses seeking to attract and retain top talent in their respective sectors.
The Indian business landscape has witnessed a growing recognition of apprenticeships as a powerful tool for companies to address workforce challenges and cultivate a skilled talent pool. Apprenticeships provide an avenue for individuals who may not be able to commit to full-time employment (for whatever reason), while enabling companies to train and upskill additional workers. They offer numerous benefits that help alleviate many of the problems industries are facing today.
Interested to know How to Hire Apprentices in your Organisation? Get in Touch