77% of the employers or simply 7 in 10 businesses will increase their engagement of apprentices in the coming months. The Net Apprenticeship Outlook (NAO) soars to 69% for Jul-Dec 2022, a steep 13% increase from the previous HY (Jan-Jun 2022).
The Apprenticeship Outlook Report provides a 6-month forecast for apprentice engagement based on employer sentiment. The report covers the key sectors that will witness an increase and decrease in the engagement of apprentices, the key reasons for the planned increase in apprentice hiring, the top cities, job profiles and the stipend ranges for various apprentice categories.
Key Insights on Apprentice Hiring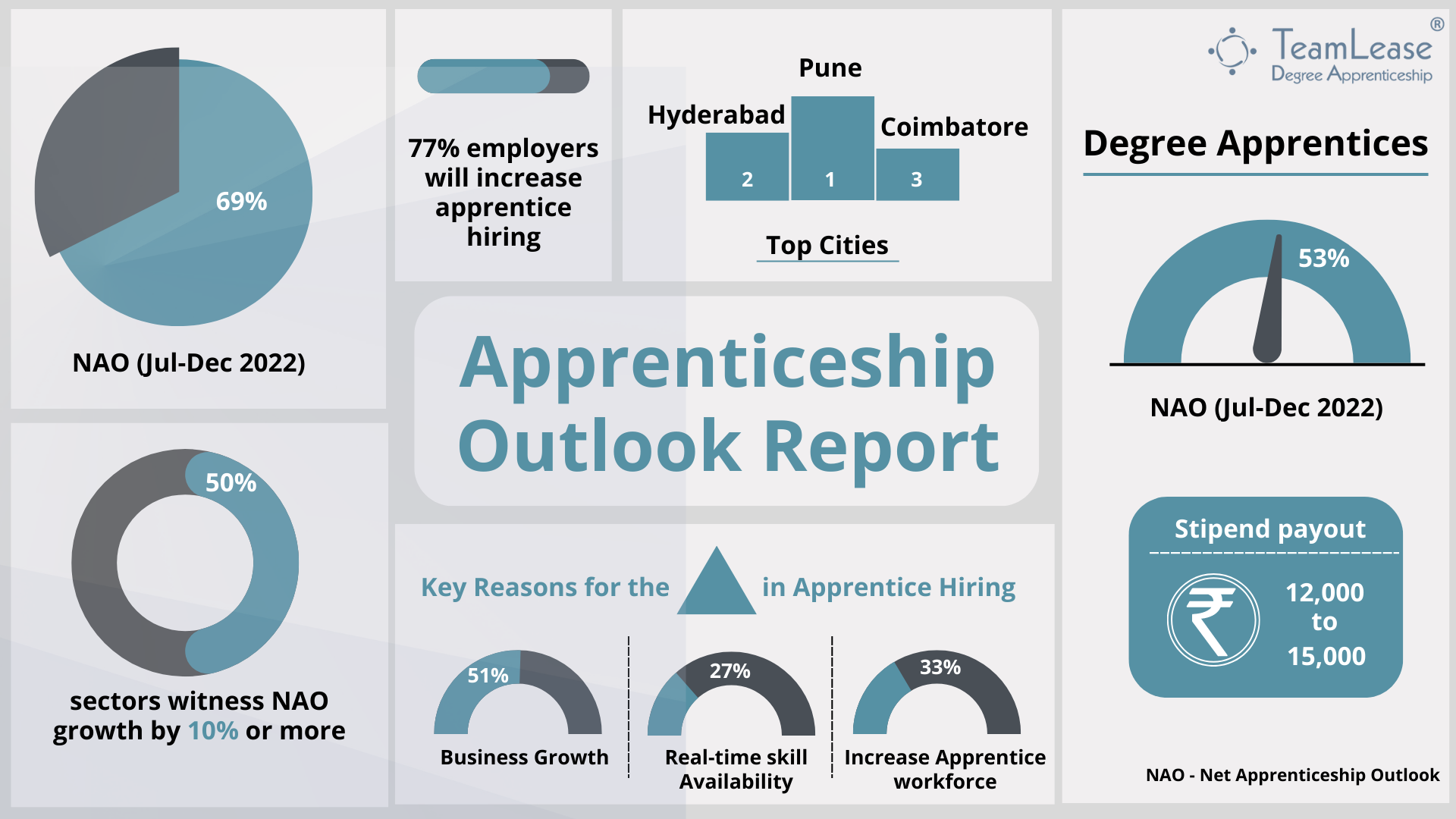 The NAO for Jul-Dec 2022 witnesses a 13% increase from the previous HY, the steepest in the last two years, indicating a significant increase in the intent among businesses to hire apprentices. Employers have stated that business growth, the real time skill availability and the plan to increase the proportion of apprentices in the workforce as the top reasons for the growing intent towards apprentice engagement.
Key Sectors for Apprentice Engagement
Out of the 24 sectors covered in this report, 12 sectors registered an NAO growth of 10% or more. With a 92% NAO, Electrical & Electronics is the top sector for apprentice hiring, followed by the Aerospace & Aviation and Engineering & industrial sectors, which registered an NAO of 88% and 87% respectively.
Electrical & Electronics, Beauty & wellness and Travel & hospitality witness the biggest surges in NAO for the current half year.
Over 95% of the employers in the BFSI, Engineering & Industrial and Electricals & Electronics sectors foresee an increase in apprentice engagement during the period Jul-Dec 2022.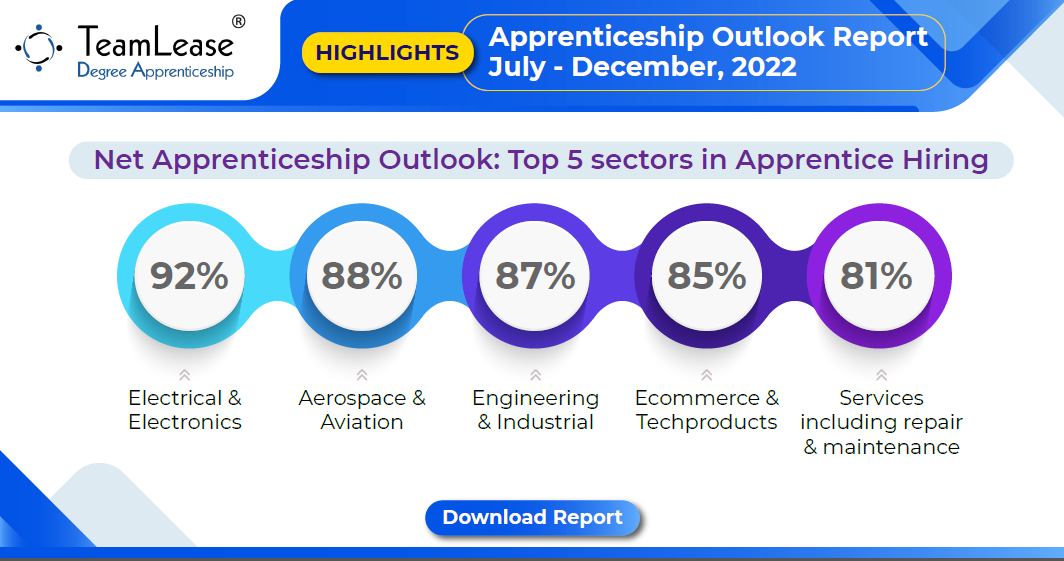 Apprentice Engagement based on Business Size
In terms of business size, small businesses are the most optimistic about apprentice engagement. The NAO for small businesses increased to 70% in Jul-Dec 2022 from 32% in Jan-Jun 2022 (over 2X). Medium-sizes businesses witness an increase of 15% from the previous HY. MSEs register an NAO of 72%.
Large enterprises registered a relatively lower NAO of 65%.
Top Cities for Apprentice Engagement
Hyderabad registers the highest NAO (77%) among the metro cities and Mumbai has the lowest NAO (61%). More metro city-based employers anticipate an increase in their apprentice engagement for the current HY compared to the previous.
Though Mumbai has registered a low NAO, it is on the back of a significant 6% growth compared to the previous HY.
The Top Job Profiles for Apprentices, Stipend Ranges for different Apprentice Categories and More, in our 6th edition of Apprenticeship Outlook Report - DOWNLOAD NOW