In India, many apprenticeship opportunities and on-the-job training are available in various industries. As a result, the number of apprentices doubled during the past five years, reaching over 5.5 lakhs. The top 3 sought-after apprenticeship profiles are discussed here.
Apprenticeship is one of many new tenets adopted over time to enhance education. Apprenticeship programmes efficiently prepare candidates for formal employment by combining classroom instruction and on-the-job training. On the other side, firms can boost their per capita productivity through a trained and cost-effective workforce, financially benefiting the employers. The degree apprenticeship assisting India in closing its employability gap programs is indeed the "21st-century Nayi Talim".
In India, the number of apprentices has nearly doubled during the past five years, reaching over 5.5 lakhs. As a result, employers' perspectives towards using apprentices have improved. In comparison, almost 77% of India Inc. companies were enthusiastic about increasing the size of their apprentice pool. The incredible increase in employer intent results from the nation's embrace of apprenticeships being strengthened and promoted by the government, businesses, and academics.
The development of new technologies like 5G, Internet of Things Artificial Intelligence (AI), Robotics, and Cloud Computing, among others, will significantly expand the range of prospects for apprentices in the future across industries, with 2022 being the year of the apprentice.
Here are the top apprenticeship profiles which will witness a surge in demand in 2023.
Internet of Things Professional
The Internet of Things (IoT) has completely changed the Information Technology landscape. Developing IoT skills can open up career prospects for a person in multiple industries, including supply chain management, IT, telecoms, and tech startups.
The IoT is a network of connected electronic devices, computer hardware, and software that can transmit data, making it in demand nowadays.
Internet of Things is one of the top apprenticeship profiles that will witness a surge in demand in 2023. The career path can be accelerated by having skills in UI/UX design, business intelligence, hardware interface, AI and machine learning, and IT security.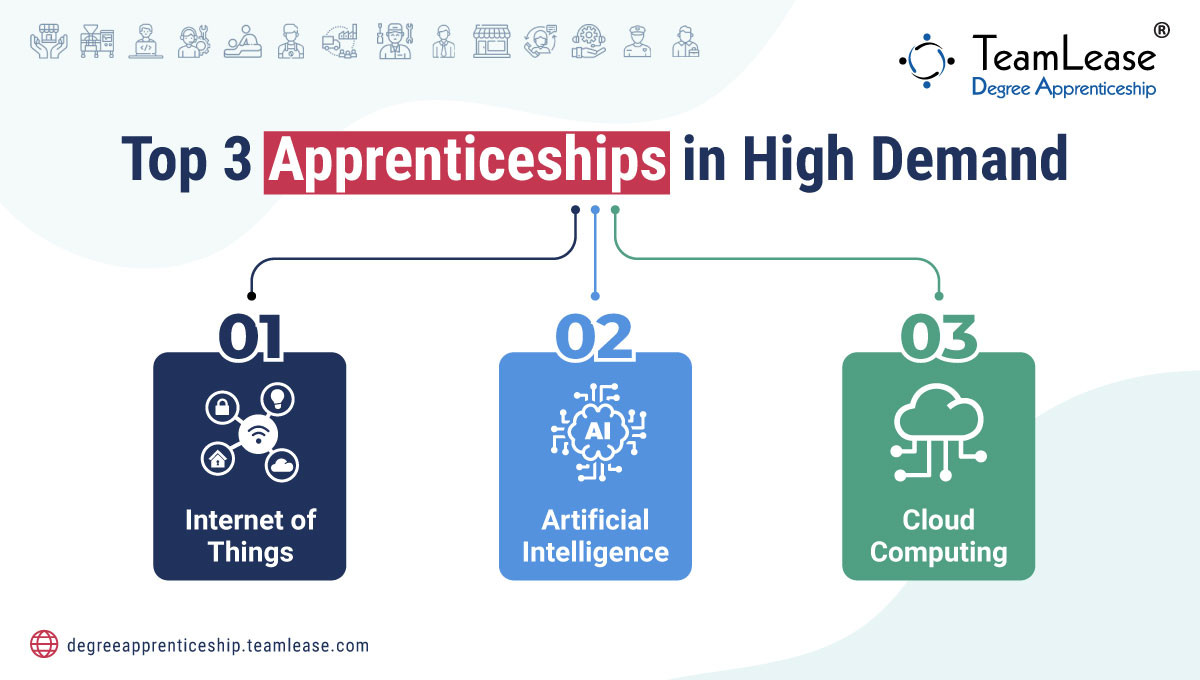 Artificial Intelligence Engineer
The demand for AI engineers is growing as the field of artificial intelligence develops and grows. An individual can get advanced IT skills and prepare for a career at a tech company, startup, or the manufacturing sector by enrolling in upskilling and apprenticeship programmes in AI. Jobs are available in various sectors, including technology, finance, healthcare, and more. Upskilling in artificial intelligence is necessary to prevent employment responsibilities from becoming obsolete as computers replace manual labour.
An AI engineer is responsible for developing and deploying AI models to gain business insights, setting up and maintaining the AI infrastructure that helps organize operations and develop algorithms to solve challenging problems.
Cloud Computing Expert
After the pandemic, hiring positions in all industries have been dominated by cloud computing as the digital revolution quickens and is predicted to grow by the end of 2022. Experts in cloud computing organize and maintain data and applications distributed throughout the Internet via cloud-based infrastructure. As a result, there are several employment prospects in this area.
Lack of skills is the cause of the industry's talent shortage. The top skills in demand for cloud experts are AWS/ Azure, Cloud Migration, SAP, Cloud Security, and ML/AI.
Start an Apprenticeship Program at your Organization - TALK TO US
In addition to the top apprenticeship profiles listed above, the demand for data science engineers/analytics will also be high.
To comprehend insights about a company's growth, data is a critical component of any business, service, or product. Several industries including IT, aviation, manufacturing, e-commerce, education, and gaming use data science to make intelligent decisions and increase revenue. Because of the kind of income perks it provides, it is one of the most popular courses among the youth in India. Statistics and Maths are essential for a job in data science. However, it requires time and skill to master because of its slight learning curve.
Opportunities in the industry are constantly expanding. In addition to entry-level positions, one can pursue careers in business intelligence, analyst jobs, specialist and management roles, data architects, and statisticians.
The rising youth population in the country needs quality employment opportunities to use their formal education and apprenticeship programmes to employ their potential for productivity. However, the talent supply focus and the rising demands still have a long way to go.
At present, it is an ideal opportunity for companies to hire more apprentices in technical roles and expand their talent pool to include more people from various industries.
India's youth population offers a substantial opportunity for businesses trying to build a pipeline of qualified, skilled, talented people.
This cohort is getting a structured education and experience through apprenticeship. However, India needs to scale the adoption of apprenticeships in the upcoming year with a more focused strategy.
Based on the article in India Today by our Business Head, Dhriti Prasanna Mahanta