Apprenticeship programs have emerged as a potent solution to address talent and skill shortages faced by companies in India and around the world. Recognizing their potential, approximately 65% of hiring managers have acknowledged the value of apprenticeships in achieving optimal growth. However, the current limited supply of skilled workers has intensified competition, leading to rising "Cost to Hire" for companies. To tackle these challenges, TeamLease, in collaboration with GAN Global hosted a webinar that explored the transformative potential of these programs and proposed key reforms to unlock their power.
During the webinar, Mr. Atul Kumar Tiwari from the Ministry of Skill Development and Entrepreneurship (one of the governing bodies behind Apprenticeships in India) shed light on the primary issues surrounding apprenticeships, particularly the complexity and lack of guidance within the existing system. The presence of four different types of apprenticeship programs, each overseen by a separate governmental agency and with varying entry criteria, has created a convoluted process for both applicants and employers. Although the categorisation serves the purpose of standardisation, the lack of transparency and easily accessible information has hindered the growth of these programs both on the side of the Applicants and the Companies.
To address these challenges, Mr.Tiwari emphasised the need for a unified online platform that simplifies apprenticeship management and raises awareness about their value. Integration of thse skill development programs into the education system and enhancing theoretical knowledge uptake can also bring greater legitimacy to these programs. The misconception that apprenticeship programs are solely meant for lower-level blue-collar jobs and are pursued by those who cannot compete within a conventional educational environment needs to be done away with. By integrating these programs into the existing education system, these programs can gain the recognition they deserve and attract a wider pool of applicants, offering a viable alternative pathway to enter the workforce.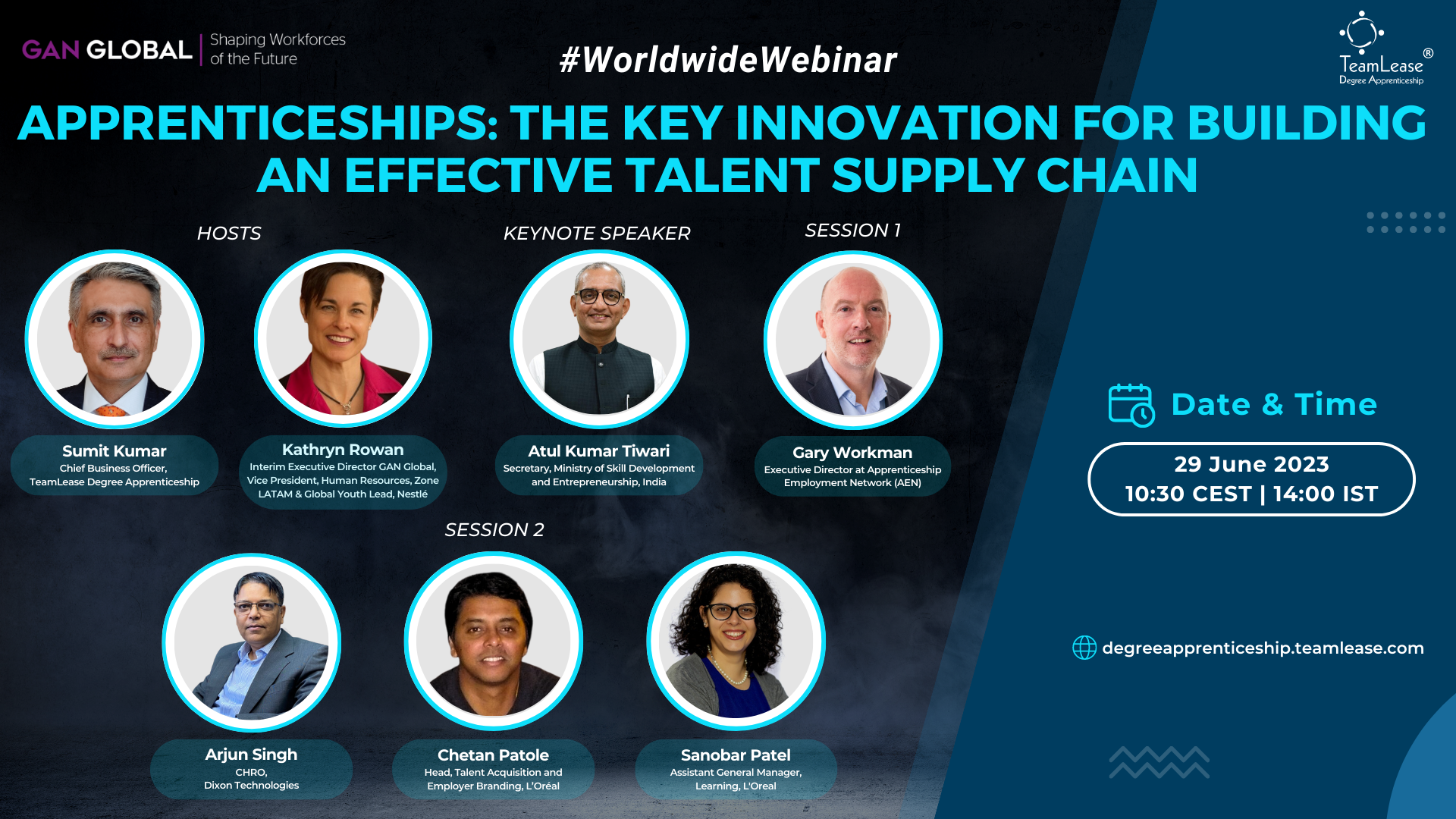 Interested in unlocking the potential of apprenticeships for your business? Watch the entire discussion
The webinar underscored the significance of increased investment in apprenticeship systems from both the government and the private sector. Collaboration between these entities is crucial in developing programs that equip apprentices with relevant skills and ensure the certification and formalisation of these skills. By aligning apprenticeship training with industry needs, these programs can become more effective in preparing workers for the demands of the job market.
A focal point of the apprenticeship drive is to make these programs accessible and affordable for small and medium-sized enterprises (SMEs) and micro-enterprises. Gary Workman, Executive Director, Apprenticeship Employment Network (AEN) and GAN Australia presented Australia's Group Training Organization (GTO) model as a potential solution. This model involves creating non-profit organisations, partially government-owned and operated, to oversee apprenticeship training and provide placements for companies. By adopting this model, India can regulate apprenticeship training and make it economically feasible for all industries, particularly SMEs.
The webinar also featured representatives from leading companies in their respective industries, such as L'Oreal and Dixon Technologies, who shared insights into their successful apprenticeship programs. These programs have yielded remarkable benefits, including high retention rates for previously high-attrition positions, reduced hiring costs, and the development of a more flexible and skilled workforce.
Dr. Arjun Singh, CHRO, Dixon Technologies said that the organisation recorded an impressive 60% retention rate through their apprenticeship program, significantly lowering hiring costs.
Chetan Patole, Head of Talent Acquisition and Employer Branding at L'Oreal and Sanobar Havelivalla, Head of Learning and Talent Management at L'Oreal, introduced their own upskilling program, which has been running since 2005, training applicants in opening and operating their own salons and businesses. The program has provided internationally and nationally recognized certifications and has trained over 10,000 individuals in the past 18 years.
Sumit Kumar, Chief Business Officer TeamLease Degree Apprenticeship and Kathryn Rowan, Interim Executive Director of GAN Global and Vice President of Human Resources, Zone LATAM & Global Youth Lead at Nestlé co-hosted the webinar.
Apprenticeship programs hold immense potential in addressing the talent and skill shortages faced by companies today. The webinar highlighted the need for reforms to simplify apprenticeship management, enhance awareness, and integrate work-based learning into the education system. By fostering collaboration between the government and the private sector and making apprenticeships accessible to SMEs, India can unlock the transformative power of apprenticeships and build a skilled and sustainable workforce for the future.
Interested in unlocking the potential of apprenticeships for your business? Talk to us